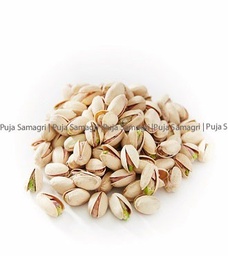 df-Pistachio/Pista (पिसता) 200g
Pistachios are the seeds of the fruits of the Pistachio vera tree, which produces clusters of small fruits that gradually harden and split, exposing the seed within. They're usually green and slightly sweet. Pistachio nuts are not only tasty and fun to eat but also super healthy.
Benifits & Nutrients:-
·        Pistachios are high in protein, fiber, and antioxidants. They also boast several other important nutrients, including vitamin B6 and potassium.
·         Pistachios are among the most antioxidant-rich nuts around. They're high in lutein and zeaxanthin, both of which promote eye health.
·         It contain fewer calories and more protein than most other nuts. Also, their essential amino acid content is higher than any other nut.
·        Eating pistachio nuts may aid weight loss. In-shell pistachios are especially beneficial, as they promote mindful eating.
·         Pistachios may help lower blood cholesterol. It may also lower blood pressure more than other nuts.  
Usage:-
·        Pistachios can be enjoyed in a variety of ways. These include as a snack, salad garnish,or pizza topping, or even in baking, adding a beautiful green or purple color to various desserts and dishes.
This is a preview of the recently viewed products by the user.
Once the user has seen at least one product this snippet will be visible.
Recently viewed Products