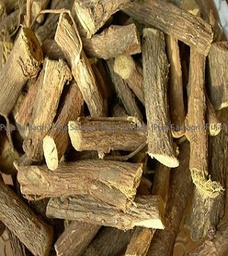 jb-Jethi Madhu (जेठी मधु) 50g
- Jethi Madhu or Licorice root is considered one of the world's oldest herbal remedies that comes from the root of the licorice plant.
- It is an important herb used in Indian medicines, home remedies, folk medicines and Ayurveda.
- Jethi Madhu contains a sweet substance and a saponin glycoside, glycyrrhizin (also known as glycyrrhizic acid).
- It is 30 to 50 times sweeter than sugar and taste of sweetness in mouth lasts longer than sugar.
- Jethi Madhu are on digestive system and respiratory system which helps in relieving gastric symptoms such as heartburn, burning sensation in the abdomen, peptic and duodenal ulcer, abdominal colic, GERD and chronic gastritis.
- Jethi Madhu helps to boosts immunity system.
Usages:-
- All you need to do is to boil the root to make a tea if you are feeling nauseous or are coming down with a cold.Liquorice tea is also good for maintaining dental health; try gargling with cooled tea.
- Jethi Madhu 50g of packets.
This is a preview of the recently viewed products by the user.
Once the user has seen at least one product this snippet will be visible.
Recently viewed Products