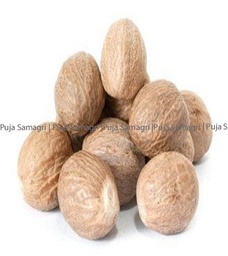 kr-Nutmeg/Jaiphal (जाइफल) 1kg
Nutmeg is a spice made from the seed of the nutmeg tree (Myristica fragrant), a native Indonesian evergreen tree. Nutmeg is the inner seed, while mace is the red, lace-like substance that covers the seed.
Benefits of Nutmeg:-
- Nutmeg is very useful in clearing throat, cough, asthma, throat pain, irritable bowel syndrome and diarrhea due to its water absorbing and sputum absorbing properties.
- It reduces bad breath in mouth, moisture in mouth and excessive thirst.
- It is used to relieve bloating, flatulence and abdominal pain, to balance the blood sugar levels and to treat urinary tract infections.
- It can relieve nausea and vomiting.
- Nutmeg or Jaiphal can reduce the allergic rhinitis.
- It is a natural detoxifier which improves the skin tone and complexion.
- It improves deep sleep and treats insomnia.
- Paste made of Jaiphal can relieve headache and joint pains.
- Jaiphal is used to treat cold in infants , relive depression, boosts immunity and resistance power.
Usage:-
- A pinch of nutmeg spice powder is used in baking, curries, sweets, beverages like tea and mulled wine.
- Jaiphal is valued as a potent aphrodisiac, digestive stimulant, essential oil easing the pain associated with headaches and treats common cold, cough and asthma.


This is a preview of the recently viewed products by the user.
Once the user has seen at least one product this snippet will be visible.
Recently viewed Products