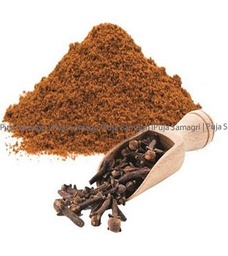 kr-Clove Powder/Lwang Dhulo (ल्वांग धुलो) 500g
Clove powder is ground from the unripe fruits of organic and fair trade Syzygium aromaticum. Ground cloves are valued for their stimulating aromatics and can be added to seasoning blends, coffee, tea, mulled wine, baked goods, extracts, and more.
Health Benefits:-
- Cloves powder are anti-fungal, antibacterial, antiseptic and analgesic. They're packed with antioxidants and are good sources of minerals (especially manganese), omega-3 fatty acids, fiber and vitamins.
- Cloves help relax the smooth lining of the GI tract, so they help alleviate vomiting, diarrhea, intestinal gas and stomachaches.
- Cloves powder are a great source of beta-carotene, which helps give them their rich brown color.
- Cloves powder include multiple compounds that are linked to anti-inflammatory properties.
- It provide a significant amount of the mineral manganese. Manganese helps your body manage the enzymes that help repair your bones and produce hormones.
 Usage:-
Add ground cloves to pumpkin pie.
Add cloves to chai lattes.
Use whole cloves in a pickling mix for spicy pickles.
Include cloves as an essential spice in curry.
Make mulled wine with a heavy sprinkle of cloves.
Use cloves in rubs to season meats.
This is a preview of the recently viewed products by the user.
Once the user has seen at least one product this snippet will be visible.
Recently viewed Products