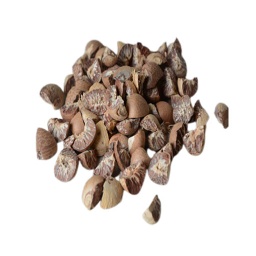 kr-Betel Nut/Tukra Supari (टुक्रा सुपारी 4 टुक्रा) 50g
Betel nut is the nut that comes from a plant called Areca. It is sometimes used to make medicine.Betel nut is chewed alone or in the form of quids, a mixture of tobacco, powdered or sliced betel ingredients.
Benefits:-
- Betel nut is rich in nutrients; especially alkaloids like arecoline, arecaine, Arecaidine, choline, guvacine, guvacoline, gallic fatty acid and tannins.
- Betel nuts are also traditionally used to prevent bad breath and phlegm.
- Chewing betel nut is used to stimulate appetite and increase saliva flow for digestion.
- Betel nuts include antioxidants which help to avoid cellular degeneration within the older ones.
- Betel nuts could be chewed just before traveling to avoid vomiting sensation.
Usages:-

- Betal Nut is used in the fresh form, as well as in the dried form, and the nut can be boiled or roasted.
- The taste of the betel nut is warm and acidic, and mixes well with all spices. Men, women, and adult regularly consume the quid to enjoy its health benefits.
This is a preview of the recently viewed products by the user.
Once the user has seen at least one product this snippet will be visible.
Recently viewed Products