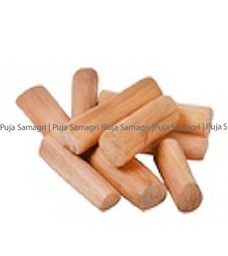 ps-Premium Sandalwood /Seto Chandan (सेतो चन्दन) 100g
 - Premium Sandalwood Stick is integral to rituals and ceremonies, to mark religious utensils and to decorate the icons of the deities. It is also distributed to devotees, who apply it as a tilak on the forehead or the neck and chest.
- The paste is prepared by grinding sandalwood by hand upon granite slabs (popularly known as Saane kallu in Kannada and Ammi kallu in Malayalam) shaped for the purpose.With slow addition of water a thick paste results (called Kalabham in South India).
- In Tirupati temple after religious tonsure, Sandal paste is applied to protect the skin.
- Sandalwood is considered in Hinduism and Ayurveda to bring one closer to the divine.
-This ready to apply sandal paste is used widely in major temples of Lord Krishna. Applying on Forheads, Prayer, Rituals, Bathing of gods, Yantras, Rudraksh Beads, Shaligrams-shilas, Malas- Rosaries, Deity idols, Shanks, Abhishkum, Temples.
-Premium Sandalwood 100g of packet.

This is a preview of the recently viewed products by the user.
Once the user has seen at least one product this snippet will be visible.
Recently viewed Products